Season 9, Episode 5
"The Cartridge Family"
First Broadcast: November 2, 1997
Courtesy 20th Century Fox, via Frinkiac.
A BUNCH OF STUFF THAT HAPPENED
When association football ('soccer', to our American friends) fever comes to Springfield, in the form of the bitter rivalry of Mexico and Portugal, a riot breaks out when no goals are scored in seemingly only two minutes of action, underlining the fundamental difference between American and European team spectator sports. After a good old fashioned football riot, naturally led by the British contingent, anarchy temporarily rules, and Homer uses his family's perceived lack of safety as a lever to buy a firearm.
Unconvinced by a National Rifle Association meeting, and livid after Homer promises to get rid of the gun but actually just leaves it in the refrigerator, Marge is moved to take the children and go to a sleazy motel in an attempt to escape Homer's wanton gunplay. When his behaviour even brings the scorn of the NRA, Homer knows he must make amends.
Following Marge to the motel, he apologises and asserts that he has got rid of the gun. However, Snake's appearance and attempted robbery leads him to reveal he has lied again, and when Snake snatches Homer's gun, it's up to the quick reactions of other NRA members to save them. Fearing the power the gun has over him, Homer empowers Marge to throw it away… But seeing her reflection in the garbage can, decides to keep it for herself.
MAGIC MOMENTS
Homer's imagining of what life would be like if he robbed the Kwik E Mart: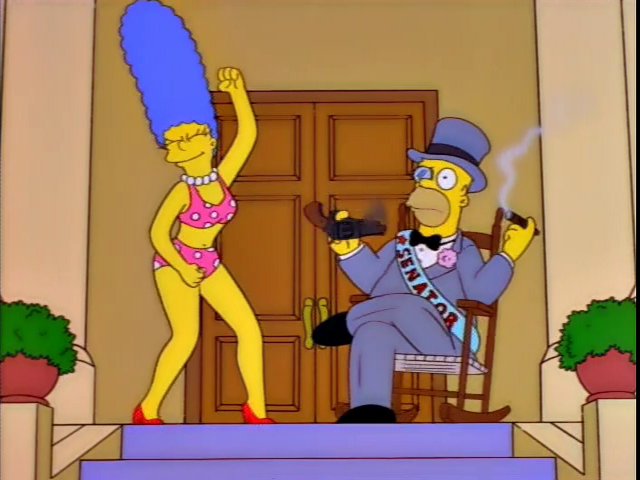 Courtesy 20th Century Fox, via Frinkiac.
Homer shopping for a gun, which includes him being categorised as "Potentially Dangerous", limiting him to a mere three handguns.
The contrast between Kent Brockman's commentary, and the commentary of his Mexican, non-union equivalent.
ALL SINGING, ALL DANCING
Oh, that's weird: the main featured song in this episode – other than the theme to "The Avengers" – is "The Waiting" by Tom Petty, who as I write this has just died, a mere four days ago (but when this gets published, about two and a half months ago). It plays as Homer runs down the agonising five-day wait for his gun:
HISTORY/LEGACY
Guns had been featured prominently in The Simpsons before, including in "Homer The Vigilante", where the drunken mob (some of whom are pictured in the NRA in this episode) are shown to be unable to safely handle firearms, and the actual showing of an oft-quoted Apu shooting in "Homer and Apu" - and that's before we even get to the hyperviolence of "McBain". And Sky1 didn't ban any of those. Just saying. (Although I bet Channel 4 have cut them to shit.)
Oh yeah, and there's an episode where Mr Burns got shot – that's a bit of an obscure one though, you might not have heard about it.
The National Rifle Association – "cold, dead hands" and all that – are of course regularly mentioned on The Simpsons. As revealed in "The Simpsons 138th Episode Spectacular", when Maggie is scanned in the opening title sequence, the cash register shows the legend "NRA4EVER" – just one of many right-wing references Matt Groening has peppered throughout his creation.
WHY I LIKE IT
The Simpsons rarely turns its focus to huge societal and political issues, "Much Apu About Nothing"'s Cliff Notes of immigration aside, so the novelty of the show weighing in on something wider than Captain Wacky's family adventures is pretty damn cool – I'd go as far as to say that this is "South Park" territory in terms of subject matter, and as such an intriguing proposition from the get-go.
It seems a relatively even-handed discussion of that huge issue, one which remains non-judgemental about gun ownership and use, not blind to the perceived advantages in home security and even the allure of firearm ownership, but critical of any lack of gun safety and the ease with which they can be purchased – a realistic view in keeping with a broadly left-wing American perspective on gun control.
And yeah, the banning worked. This was a holy grail for a fair while due to Sky 1's reluctance to show it and the lack of streaming or home DVR at that time, meaning a bootleg VHS was the only way to get hold of it – and get hold of it I did not. Luckily the good old BBC was more than happy to have an episode of The Simpsons it could legitimately debut in the UK, and I still remember my excitement on seeing it for the first time. For that one move alone, they'll get my licence fee until the Tories succeed in dismantling it, in about four months' time.

Join us next time for more from the blog that can't even say "titmouse" without giggling like a girl. (Hee hee hee hee hee hee hee!)